What Our Clients Say…
They did a very good
They did a very good job they were very polite cleaned up afterwards great attitude in every single one of them thank you so much guys.
Lety jurado
Back deck repaired from a fire.
George got right on it. I had called another company but they said they would be there in August to give me an estimate. Then I called Ace Service, George was out the next day to see the damage and write up an estimate. The next day he emailed me the estimate and I asked "When can you start"? They started the next Tuesday taring out the top of the deck. They found that the rest to the deck had to come down. So the continued the next day and soon I had a new deck. It looks great.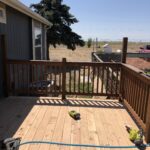 David Oylear
Floor supports
My floors were bouncy. Luckily nothing rotten or broke, just needed extra support down middle of a 12' span of joists (normal is about 8'). These guys are quick, professional, efficient and friendly. They know how to do the job right! Prices are reasonable. They laid down runners to protect floors, didn't damage plants in my flower bed. They are doing another job putting in a couple windows for me soon. These are the ones to call for remodeling or repairs. Thank you so much ACE Services
Suella Gran
soaplake,wa
these men did a great job needed my tree trim could not get what i need and others was out months Ace come did a great job plus they found found some damage on my roof they fix it in no time great job.
becky F.
---
Leave Us A Review!